Weekend Wrap: Records Fall And Tiger's Coming Back While Azinger Is Not
All of that plus more news from the television world, Schauffele's version of the last few months, and other oddball stories from the "off-season."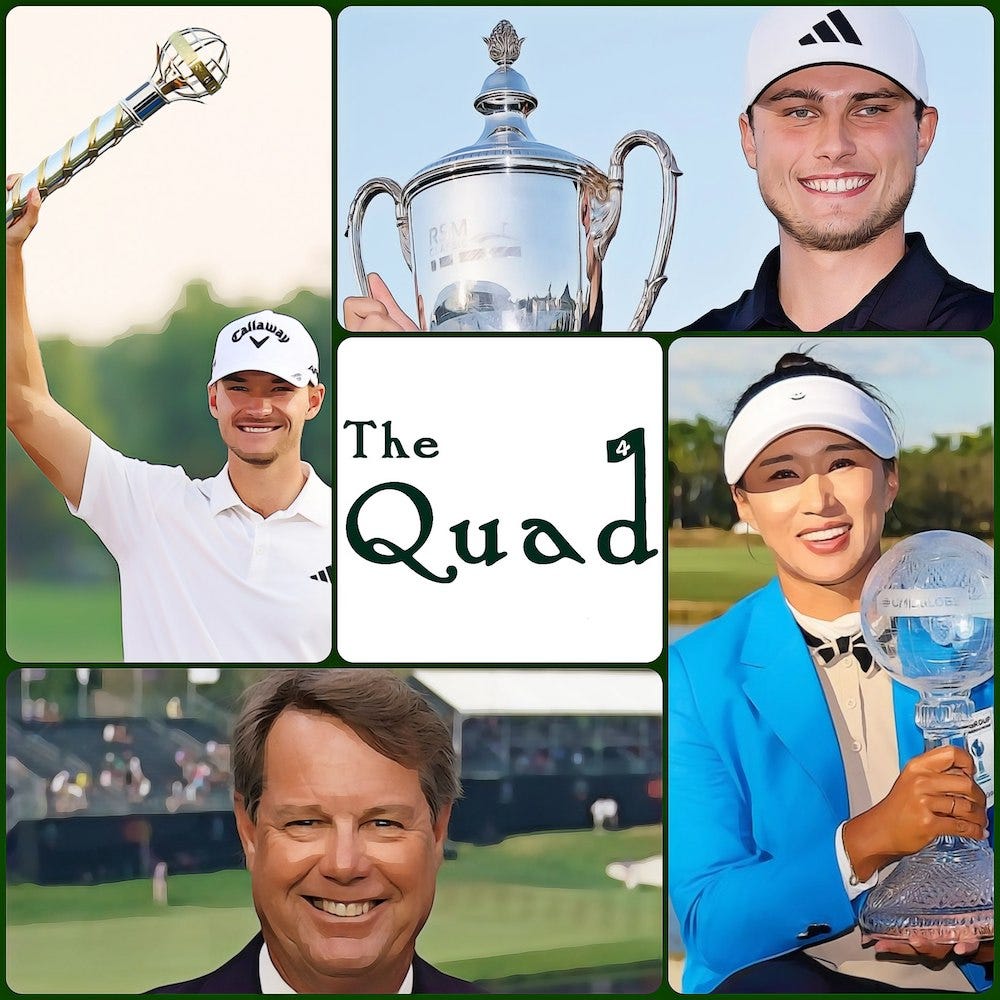 Here I thought I'd have the pre-holiday weekend to finish staff reviews, revel in USC football discussion backstabbing and maybe tune in to watch some Fall golf. Then came a few more days of news from the neverending mishegoss of professional golf. But it's not all bad! In the gratitude-forward spirit of the late November season, we have record-breaking performances on all the tours to appreciate and plans for another Tiger comeback. All to help offset the avarice, ignorance and greed showing no signs of dissipating.
A recap of the weekend action:
RSM Classic. Ludvig Åberg posted a pair of weekend 61's to overcome Mackenzie Hughes going 60-63 and win the final full field of 2023. This means won on both the PGA Tour and DP World Tour's mere months after finishing his Texas Tech studies. Åberg's 253 total ties the PGA Tour record for low 72-hole event scoring and broke the tournament record by seven. His final 54 hole scoring established a new record previously held by Dustin Johnson. And his final 36-hole score of 122 sets the new Tour standard. In 50 PGA Tour rounds since earning a card via the PGA Tour University program, Åberg is 140-under-par and has not posted a round higher than 73. He has already posted 12 rounds of 65 or better. With the win he's expected to move to 32nd in the world. I'd say he's ready for his first-ever major championship in 2024!
DP World Tour Championship. Just six weeks after his Ryder Cup rookie appearance Nicolai Højgaard shot 64 and captured his first Rolex Series by two. Finishing second were Cup teammates Tommy Fleetwood and Viktor Hovland along with third round leader Matt Wallace (who birdied his final nine holes Saturday!). Højgaard enters the OWGR top 50 with the win. His twin brother, Rasmus, narrowly missed earning a PGA Tour card in year one of a program awarding privileges to the top 10 Race to Dubai points earners not yet exempt. France's Matthieu Pavon birdied his final four holes to prevent Rasmus from joining his (already exempt) brother on the PGA Tour.

CME Group Tour Championship. Amy Yang birdied her final two holes to post 66 and set a tournament scoring record (-27) and earn the $2 million winning check. The 34-year-old's fifth LPGA win is her biggest career victory, her first on American soil and comes after injuries put her career in jeopardy. Alison Lee and Nasa Hataoka finished three back in a tie for second at -24 while the two-time major winner in 2023, Lilia Vu, finished in solo fourth after a fourth-round 65.
---
Woods Returning
Tiger Woods will tee it up at his Hero World Challenge. It's the first time he's played competitively since withdrawing during the Masters third round. He subsequently underwent ankle surgery, ending his 2023 campaign.
What this portends for 2024's majors remains uncertain. But Woods hopefully has plans to give it a go at Augusta National, Valhalla, Pinehurst No. 2 and Royal Troon. Or he's just making sure he's extra sharp for the TGL opener (assuming the tech-forward league was able to pick up some backup generators before reinflating circus its tent roof in time for the January 9th opener.)
Either way, the Hero's flattish Albany course will be the perfect spot to test out a repaired ankle that recently survived four days of looping for son Charlie.
In other Hero news, both Patrick Cantlay and Xander Schauffele have withdrawn and will be replaced by Lucas Glover and Justin Rose. Before you call conspiracy on the budding vintners and suggest they're WD'ing in another of their joint venture protests, it's been rumored for a while that Cantlay would not be playing while Schauffele telegraphed plans to shut it down in an interview published October 31st (more on that below).
---
Azinger Out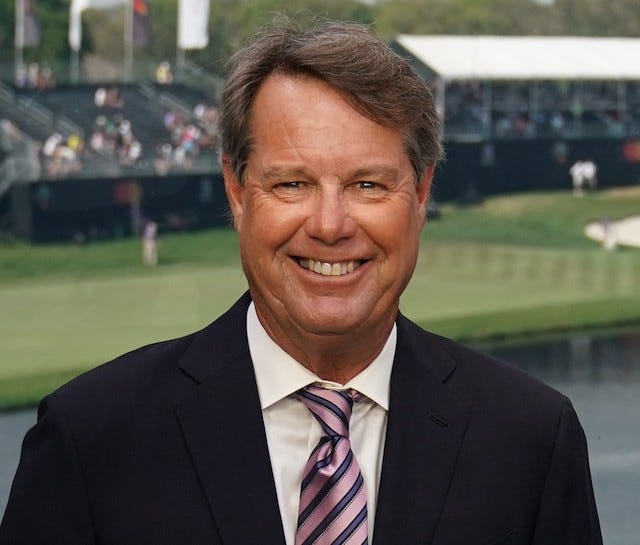 Lead golf analyst Paul Azinger will not have his contract renewed by NBC and has worked his last event for the network.
AP's Doug Ferguson first reported the news.
Azinger told the AP he had planned to finish his year at the Hero World Challenge, one of ten or so events he annually worked since joining the network as full time analyst in 2019 after Johnny Miller's retirement.
Golf Digest's Joel Beall reported Sunday that the decision caught Azinger by surprise and the move is "part of a potential overhaul of NBC Sports' golf coverage, with more changes possibly coming to the company's Golf Channel."
They call NBC Nothin' But Costcutting for a reason! Finances were implied as a culprit in the non-renewal by Azinger's management.
"With the golf and media landscapes now in a more challenging environment, Azinger and NBC will part ways as their current contract ends," Azinger's manager said.
Azinger previously enjoyed successful stints at ESPN/ABC and Fox Sports. However, his time at NBC rarely evoked the positive reviews he'd previously received. Besides becoming less insightful and only willing to give hot takes when it came to perceived media pressures put on players, he may be most remembered for his final shows during a peculiar 2023 Ryder Cup performance. Whether it was delving into the meaning of nationalism on a golf telecast, sounding dejected by European success, or lashing out at a report from NBC's sister network, Azinger displayed no such madness on his way out.
"I have treasured working beside Dan Hicks and the other talented NBC broadcasters as well as lead producer Tommy Roy and all those behind the scenes," Azinger told friend Steve Eubanks. "They are a remarkable team, and I will miss them tremendously. My thanks to them and the countless others who have supported me and helped me along the way during my work in television. I have faith in what the future holds for me, for NBC, and for the great game of golf."
With no obvious replacement, NBC's lead analyst chair is now available for the U.S. Open, The Open and Ryder Cup. But in a world where Comcast might only be content when talent pays them for the privilege of announcing and recent ex-player voices won't work for TV money, it's unlikely the network will spend big as they did when hiring Azinger.
He was rewarded with a handsome contract to replace Johnny Miller and was even allowed to maintain his role with Fox Sports when NBC struggled to find and hone talent, notably letting Trevor Immelman get scooped up by CBS. With layoffs and the expected acceleration of most production supervision and even some announcing taking place in Connecticut instead of on-sight, a splashy signing seems far-fetched.
Expect former NBC announce-team members Justin Leonard and David Duval to be the names floated for the lead role.
The analyst job is also rapidly changing in a world where broadcasters are discouraged from critiquing players emboldened by lavish pay, newfound LIV leverage and sycophantic agents who will put a network "on probation" for perceived slights. Azinger's edge disappeared with this turn in approach while working for an NBC desperate to renew with the PGA Tour.
As James Colgan notes at Golf.com, "public opinion turned against Azinger's folksy, often instinct-driven analysis" and, likely sensing the feedback, "Azinger appeared to go on the defensive, frequently deriding and dismissing the "media" during NBC's coverage — a curious decision considering his role as arguably golf media's preeminent voice."
Colgan also pointed out how things quickly unraveled at the Ryder Cup when Azinger trashed a report by Comcast-owned Sky Sports regarding Patrick Cantlay's gripes about pay and hatless protest. Azinger immediately trashed the report and seemed either unaware or unwilling to factor in signs leading up to the Ryder Cup that Cantlay and Xander Schauffele skipped a practice session and believe they deserved compensation for participation. The player discontent was confirmed after the Cup and a subsequent report by Michael Bamberger cited multiple sources over-hearing some version of a bizarre Cantlay remark to NBC's Steve Sands griping about a PGA of America official getting paid to wear a hat while players were not. The subsequent reporting and lack of a correction or apology by NBC only made Azinger's kneejerk on-air reaction look worse.
"We want to thank Paul for his work with us over the last five years," said a network spokesperson. "His insights, work ethic and relationships in the golf industry are well known, and we appreciate what he brought to our team. We wish Paul the best in his future endeavors."
The replacement decision will be up to Sam Flood, who now overseas the NBC golf operation reporting to Molly Solomon, who hired Azinger. And of course the beancounters. But combined with the recent layoffs of an already-reduced staff and so many non-renewals behind the camera, the chaotic NBC/Comcast approach has never been in sharper contrast to CBS where similar corporate concerns over costs have not stopped the network from investing in coverage and innovating.
---
Producer Packer Also Moving On
In another discouraging sign, longtime producer Brandt Packer has covered his last tournament for the Golf Channel and NBC after 17 years. He announced the news on Twitter where many of the talent and crew he worked for saluted him with gratitude.
The move ends a run of working a significant chunk of the Comcast's most prestigious golf inventory. In recent years Packer continued to put out professional and polished shows despite working with ever-decreasing budgets.
Included among the events Packer produced: Olympic golf, most USGA championships, early round coverage of the U.S. Open and The Open, the network foray into college golf (including the NCAA Championships), Walker and Curtis Cups, and PGA Tour events.
The son of the late, great CBS broadcaster Billy Packer offered no comment other than to confirm the departure decision was not his.
This fall NBC and Golf Channel coverage has been increasingly produced from company headquarters in Stamford, including the 2023 Ryder Cup beset by problems attributable to the oddity of producers and annoucers working on a delay (and in the middle of the night for those left behind). Several LPGA events have also featured announcers working from Connecticut instead of on site. Neither trend and the departure of stalwarts like Packer does not bode well for quality going forward.
---
Schauffele Speaks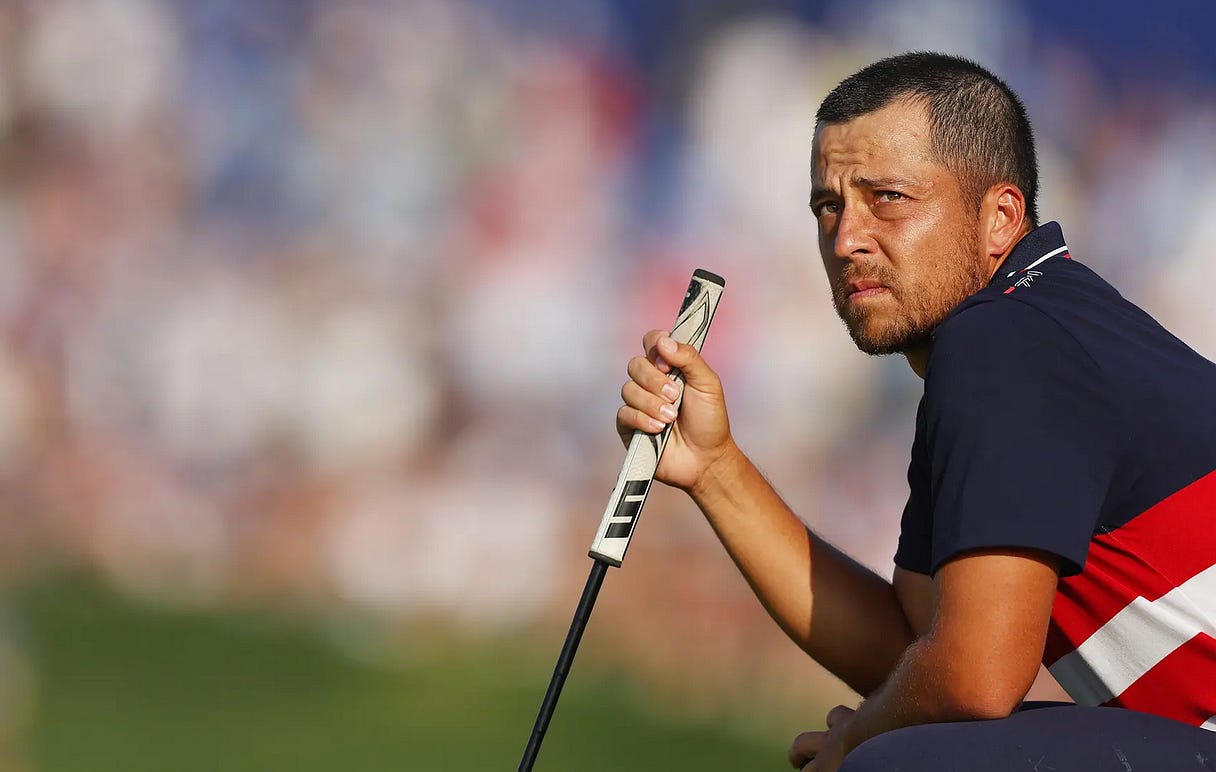 This post is for paid subscribers