Rory Finally Does What's Best For Rory
The good soldier served as the PGA Tour's de facto spokesperson until Tuesday morning before finally resigning his Board seat. Look for a big 2024.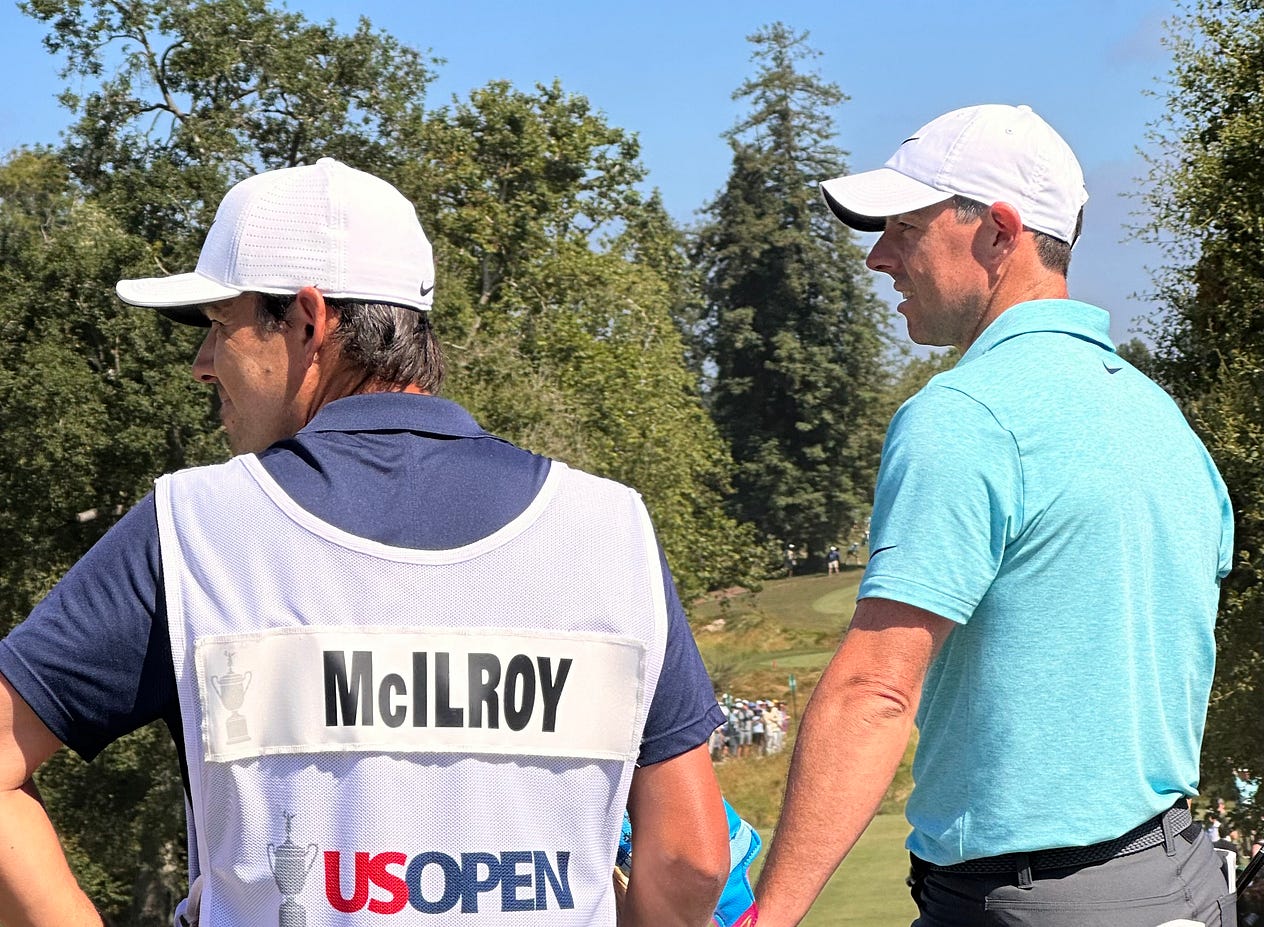 For two years Rory McIlroy has served as the PGA Tour's de facto spokesman all while playing the best golf of his career.
Why has he taken on the burden at the potential expense of his game?
Because McIlroy cares. He's also not terrified of a microphone the way his $15 million-a-year Commish appears to be whenever confronted by those soft, fuzzy sticks held by friendly faces who usually pitch prepared questions.
You see, unlike a majority of narcissistic pro golfers, McIlroy is generally able to think big picture and far beyond his self interests. And even when he's offered curious takes on key topics in the sport—notably on the distance issue—he's had little problem changing his mind when confronted with facts and time to process his prior stance. He's also able to set his pocketbook aside when declaring a position. It's why so many respect him and why one-dimensional dimwits clinging to LIV as a remedy for their life deficiencies so openly loathe a genuine article like McIlroy.
Throughout this remarkable stretch of his career, one where he's amassed millions but no majors since 2014, McIlroy's carried way too much water for overpaid executives. He's nice that way. And he's fronted the sport at a time his game is clearly better than it's ever been.
He's not even close to the player of 2010-14. He's way better.
In every facet of the game. Remember, if it was firm and fast, 2013 Rory had no chance. Now he can handle any course in any condition.
The McIlroy who will show up at 2024 majors is a more complete player than the one who seemed destined to chase Nicklaus and Woods' major tallies a decade ago. Yet all he's got to show for strides in his game are a bunch of heartbreaking finishes:

Through the saga of trying to compete and double as Chief PGA Tour Spokesman since the Commissioner and his revolving door of lieutenants can't speak without tripping up, McIlroy's still done incredible things in the majors he covets. I remain unable to fathom how he played as well as he did at the Old Course in 2022 or LA North in 2023 without taking winner's trophies home. But the Golf Gods work in mysterious ways I'll never understand.
On Tuesday morning McIlroy dutifully sat before press in Dubai and rationalized the PGA Tour's upcoming dance with private equity after having spent the last few weeks sticking to a preposterous company line: the PGA Tour really, really, really hopes to seal the deal with Saudi Arabia's Public Investment Fund.
Right!
But he's a soldier. A dutiful one.
Through a bunch of gobbledygook jargon cooked up by the consultants at Allen and Raine, Jay Monahan shoveled more dung to clueless players early Tuesday, saying the board "thoroughly reviewed all bids and agreed, in concert, to recommend select parties advance to the next round based on various criteria, including financial value proposition, minority investment rights and strategic value-add."
Ah the old strategic value-add. How 2009 of them!
Adam Silver was reportedly asked if he was interested in overtaking this mess according to a Tuesday report in the NY Times' Dealbook, but having laughed at the ideal, Jay Monahan will be weighing offers from outfits that include his former bosses at Fenway (and McIlroy's partners in Boston's TGL franchise). Yet it's been McIlroy alone and none of the other Board members peddling the PIF-as-our-friend narrative even as no one really buys the spin.
Did I mention he's a soldier?
Whether Rory grew tired of pushing a falsehood yearning for more facetime with Yasir and friends or he just couldn't take another Board Zoom listening to Patrick Cantlay, McIlroy called it quits Tuesday.
This post is for paid subscribers